Beaucoup de retard comme d'habitude sur All the Movies (quoique le bilan 2009 ait été publié quelques heures après le nouvel an de minuit ! mais on s'en fout c'était en 2009..). Pour 2010, ça me gêne de vous faire un top, surtout avec le nombre de films intéressants qui sont sortis, je vais juste énumérer et commenter la plupart des films que j'ai vu en salle obscure et qui me viennent à l'esprit. J'en oublie, mais en tout cas l'essentiel de mes films préférés de l'année se concentrera dans la catégorie absurde et surtout "Les Incontournables" qui liste le "top" en quelques sortes.


(pour lire certaines chroniques complètes des films, cliquer sur la dernière phrase, les commentaires terminant par une étoile sont ceux qui en possèdent une)
Le Meilleur, la crème des crèmes, les claques, l'incontournable en 9 films étrangers.
Sorte de Chef-d'oeuvre déguisé en blockbuster, Christopher Nolan va plus loin que ses promesses avec
Inception
, une pure réussite ayant pour thème le rêve, jamais assez abordé. Casting sympathique, musique de Hans Zimmer magistrale, réalisation sublime : un film à voir avant de... s'endormir. Nolan reste définitivement un immense scénariste.(*
lire la chronique
)
De toutes façons c'était parti pour être une merveille, l'adaptation par Martin Scorsese du roman
Shutter Island
de Dennis Lehane, avec Di Caprio en tête de la fiche technique qui fronce des yeux du début jusqu'à la fin du film, magistrale. Comment filmer un climat glauque et hostile qu'est l'hôpital psychiatrique. Une véritable leçon de cinéma par le maître du genre.(
*Lire la chronique
)
Buried
reste la surprise de l'année, un concept prometteur servi par un nouvel arrivant de la nouvelle vague du cinéma d'horreur espagnol. 1 h 30 entre 4 planches, les cinéphiles avertis tout comme les amateurs de la claustrophobie en quête d'émotions fortes y trouvent leur compte. Une très belle réussite. (
*Lire la chronique
)
The Ghost Writer
est le retour parfait de Roman Polanski, jamais il n'a été aussi bon en cinéaste, Ewan mc Gregor n'a jamais été aussi bon depuis
Trainspotting
et Pierce Brosman n'a jamais été aussi bon tout court. La mise en scène et le lieu lui servant de décor sont sublimes, le film ne l'est pas moins. Quand Kafka rencontre Hitchcock dans sa période britannique.(
*Lire la chronique
)
Rubber
est l'OFNI de l'année, l'histoire de Robert Le Pneu dévastateur qui explose la tête de gens qui s'opposent à sa route rien par des moyens de télékinésie et observé par un groupe d'innocents avec des jumelles qui assistent à un spectacle dans le désert, tel un film au cinéma. Quentin Dupieux allias Mr Oizo signe un film foutraque dont la BO est composée par lui-même et son pote de Justice Gaspard Augé, joussif, gore, presque dérangeant, et totalement au absurde, hommage au
No Reason.
  (
*Lire la chronique
)
Dog Pound
est de son côté ma claque 2010, une vision des prisons pour mineurs américaines désespérée, violente et sans mercis. Le tout y est, la fin est époustouflante avec un incroyable Adam Butcher. Kim Chapiron du Koutrajamé m'a étonné vu son précèdent film Sheitan assez mauvais à mon goût. Je me répète : époustouflant. (
*Lire la chronique
)
Le viking filmé par Nicolas Winding Refn, un trip fascinant, ultra-violent et passionant. La photographie, les effets de style, le découpage : tout ne peut être que magnifique sur
Le Guerrier Silencieux - Vahalla Rising
, voyage totalement barré et à peine compréhensible. Mads Mikkelsen y est formidable. (
*Lire la chronique
)
Les frères Coen (mes réalisateurs de prédilection soit dit en passant) signent un énième chef-d'oeuvre,
A Serious Man
est un film mélancolique et dérangeant voire presque déprimant avec pour fond les années 60 au son de Somebody to Love des Jefferson Airplane. Une fable juive éclaircie par des touches d'humour mais très noire, qui prouve l'amour de Joël et Ethan pour leur religion et fait écho à leur enfance. Une pure comédie dramatique cruelle mais minutieuse que beaucoup de magazines et chroniqueurs oublient dans leur top de l'année !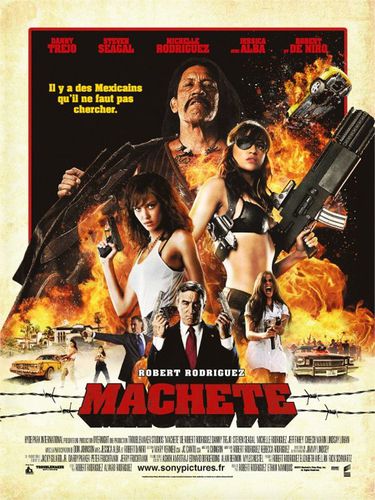 Je me sens un peu honteux de placer
Machete
dans le top du top de 2010, mais c'est plus fort que moi... C'est tellement booon ! Robert Rodriguez en collaboration avec Ethan Maniquis adapte enfin les aventures du Machete qui nous avait laissé sur notre faim par la légendaire bande-annonce passée sur le double programme Feature Grindhouse avec son compère Tarantino. Son cousin au casier judicaire lourd Danny Trejo interprète le rôle de sa vie, le personnage qu'il lui correspond parfaitement. Que aussi de la prestation de Robert De Niro en fervent républicain raciste et de Steven Seagal enfin dans un rôle intéressant de gros méchant se faisant masser dans sa piscine... Et aussi des deux bimbos Jessica Alba et Michelle Rodriguez sexys et méchamment excellentes ou encore de Cheech Marin (après ses interprétations plus ou moins importantes dans les précèdents film de Robert..) en curé frangin de Machete. Les scènes d'action gores et magnifiquement bien réalisées sont irrésistibles, l'humour y est avec des situations classiques et des dialogues cultes. Une sorte de synthèse de tous les films de Rodriguez, ce gamin du cinéma bis qui (au contraire de son compère) ne se prend jamais au sérieux et cherche toujours à nous divertir avec ce qu'il faut. La fin est en revanche, du grand n'importe quoi. Mais c'est excellent et j'en redemande du Machete Kills et Machete Kills Again. Qu'une seule chose à dire : "They Just Fuck with the wrong mexican".
Du très bon Français...
Je le dirais jamais assez, Des Hommes et des Dieux reste le meilleur film français de l'année et mérite bien le grand prix de Jury sur la croisette, et son succès au box-office. Xavier Beauvois met en scène une équipe de prêtres tous aussi excellents au niveau de jeu d'acteur et complices (mention spéciale à Lambert Wilson et Michael Londsale). Remet en perspective les véritables valeurs de la religion (l'apaisement, la réflexion) et signe au final un film émouvant où chaque plan et chaque parole sont sacrées. Un saint-Graal. (*Lire la chronique)



Je pense que le meilleur film français de l'année portera le nom d'une moto mythique. Mammuth est une pure merveille pleine d'une poésie, né de la plume et de la caméra des deux Grolandiens : Gustav Kervern et Benoît Délépine (A qui l'on doit Avida et Louise-Michel). A-t-on déjà vu un Gérard Depardieu zen, innocent et qui ne s'énerve jamais? Voici un profil de retraité, qui a pour cadeau un puzzle pour son départ. Il a travaillé depuis ses 16 ans, et il a pas bronché. Il s'emmerde donc, et part en solitaire pour trouver ses fiches de payes dans les différents boulots qu'il a exercé. Dans sonc chemin, il croisera Poelvoorde (qui fait du Poelvoorde, mais c'est toujours marrant), Dick Annegarn en gardien de cimetière, Mouglalis en fausse handicapée, Bouli Lanners en recruteur schizophrène, Kervern, le dessinateur Blutch en employé de caisse... que du beau monde ma foi (et puis y a aussi Isabelle Adjani à la chirurgie ésthétique en amour perdu). Le film prend de manière sombre les gens dans leur plus profond désespoir, et traite de sujets difficiles comme la solitude, l'ennui ou l'incompréhension et la tendance désagréable, la méchanceté des gens. Enfin un film qui fait vivre le cinéma français!


Comment un film alliant Jean Dujardin et Albert Dupontel (mon acteur français favori) respectivement dans le rôle d'un écrivain et de son cancer, mis en scène par le maître du décalé Bertrand Blier peut-être mauvais ? C'est bien la question que je me suis posée en rentrant dans la salle étonnamment vide qui projettait Le Bruit des Glaçons que j'attendais depuis un certain moment quand j'ai ouïe parler de la fusion Albert/Jean/Bertrand. A cela s'ajoute Audrey Dana et quelques autres bons acteurs français, avec une BO assez foutraque à laquelle s'intègre des morceaux parfaitement adaptés au décor décalé du film. Le cocktel fait mouche, on rit jaune, on est ravi, rien que pour les dialogues et la performance d'acteur avec ce duo inoubliable que l'on a pas vu depuis Le Convoyeur de Boukhrief.... Après il faut aimer, c'est clair...


Pour le coup, j'ai vu La Princesse de Montpensier dans le cadre d'une avant-première en présence du génial Bertrand Tavernier à qui on doit une partie de l'excellence du bon cinéma français. Avec un casting pareil (Lambert Wilson en état de grâce si je puis dire après son rôle de moine, Gaspard Ulliel, Raphael Personnaz, Grégoire Leprince-Ringuet... et Mélanie Thierry un peu juste selon moi. En plus de ça, on y ajoute un brin de la comédie française avec Michel Vuillermoz acteur d'exception). Mais c'est agréable de passer un moment comme celui-ci, de voir un bon film d'époque de notre Pays, avec un Moyen-âge sordide et une musique de Phillipe Sarde "formidable surtout dans le générique de fin" comme décrit le cinéaste. Après Dans la brûme électrique, Tavernier s'attaque donc à une adaptation d'une nouvelle de Lafayette vraiment très réussie. Il nous a expliqué divers anecdotes à propos du films notamment que le tournage fut hasardeux, les costumes piqués par ceux qui font les Tudors et que Lambert Wilson a presque rien demandé en salaire pour sa performance remarquable... Discuter avec un cinéphile aussi éclairé que Bertrand Tavernier, ça rend obligatoirement fan du 7e art français.


En 2002, Gaspard Noé nous laissait avec Irréversible mettant en scène Albert Dupontel, Monica Belluci et Vincent Cassel dans un film insoutenable mais extraordinaire sur le plan cinématographique... Après avoir réalisé Eva (une série de trois courts-métrages coquins) puis un court We Fuck Alone   pour le collectif porno Destricted en passant par des clips (Protège moi de Placebo) il revient sur le long-métrage avec un film particulier qui en a choqué plus d'un. Enter the Void projette la longue errance de l'esprit d'Oscar (joué par Nathaniel Brown) un dealer de Tokyo à la 1ère personne. Un trip psychédélique, hallucinant, sexy, flashy, coloré, taré et révolutionnaire, Quand Gaspard Noé se détache du porno, c'est un foutu bon cinéaste (ses projets : le porno 3D !).


Un biopic sur Gainsbourg devait avoir lieu un jour ou l'autre. Joann Sfar (dessinateur assez génial même si je n'ai jamais pu trop accrocher à ses bandes dessinées pourtant adulées...) s'en tire très bien avec
Gainsbourg Vie Héroïque
, film poétique original avec un casting sans défaults (Eric Elsmonino en tête dans le rôle principal, et puis des seconds rôles sympathiques comme Katerine en Boris Vian et Anna Mouglalis entre autres, ou détestables pour ma part comme Laeticia Casta en Brigitte Bardot). Une reconstitution soignée de la vie de cet artiste phénoménal, de l'occupation nazie à la période Reggae en passant par ses moults collaborations. Réussi.
J'ai beaucoup attendu
Gardiens de l'ordre
parce que j'adore Nicolas Boukhrief (surtout pour le convoyeur en fait...). Je ne suis pas du tout déçu, le film réuni une tripotée de supers acteurs comme Cécile de France, Fred Testot (méconnaissable, le jour il faisait Tata Suzane, la nuit il neutralisait des maîtres-chiens), Nicolas Marié mais aussi le super Julien Boissolier et Gilles Gaston Dreyfus. Ces deux derniers ayant tenus des rôles dans Convoyeur.
L'histoire, c'est du carrêment n'importe quoi mais on se laisse porter par la beauté de l'image et l'action soudaine. Et puis franchement, des bons policiers français y en a pas des masses. Donc bonne surprise, mais on aime ou on aime pas, c'est sûr.
Et il manque
Tournée, Les Petits Mouchoirs 
et surtout
Notre Jour Viendra
que je vais voir de ce pas
De l'excellent, des découvertes, de la confirmation de cinéastes... tous genres confondus.
Même si le dernier David Fincher (qui nous avait émeut par L'étrange histoire de Benjamin Button et qui a une des filmographies les plus intactes du 7e art), The Social Network est particulièrement génial, je n'arriverais pas à le classer dans les claques... Le film est très bon, brillant, rythmé et Geek. La musique de Trent Reznor (leader de Nine Inch Nails que je connais bien par l'intermédiaire de mon frangin qui est fan invétéré de ce groupe) est extraordinaire, et rappelle le Closer qui passait dans le générique de Seven une dizaine d'annés auparavant. Les acteurs sont impressionants, tant par Justin Timberlake (qui m'a étonné) ou Andrew Garfield mais surtout Jesse Eisenberg excellant dans le rôle du Mark Zuckerberg fondateur du Facebook qui nous domine au quotidien, et que l'on déteste bien comme il faut parce que c'est un geek bien comme il faut. Une réussite comme seul David Fincher sait les faire même si le film n'atteint pas toutes mes attentes fantasmées.


L'ex monsieur Madonna du cinéma londonnien est de retour pour notre plus grand plaisir, après un
Rock'n'Rolla 
bien excellent, Guy Ritchie donne sa vision du mythe britannique de
Sherlock Holmes
en le mettant dans la peau de Robert Downey Jr. accompagné de son fidèle Jude Law, un duo qui fait mouche. Encore une fois Mark Strong joue le méchant. Très rythmé, BO alléchante et décor sublime. Et j'approuve le concept du combat expliqué au ralenti ! Pas du très grand cinéma c'est sûr, mais qu'est ce que c'est bon... et en plus y a une suite en préparation.
Réalisateur de la trilogie Cube, et de Nothing (deux concepts impressionnants et très bien foutus), Vincenzo Natali nous sort son nouveau film :
Splice
. Une véritable réussite, menée par deux très bons acteurs avec Adrien Brody et Sarah Polley. Le film est loin d'être américanisé, il démarre un peu dans le genre, et termine dans un véritable Chaos au point où on peut même voir Brody se taper un Alien. Ce dernier est assez attachant, mais maléfique et surtout, extrêmement imprévisible. Du moins son esthétisme tient ses promesses. Après il faut aimer, parce que c'est un genre de Science-Fiction assez bizarroïde sans pitié qui peut choquer les petites âmes sensibles dont la plupart ont plutôt intérêt à se diriger vers Twilight 3, sorti début Juillet, certains m'ont dit que c'était le meilleur des trois... Vraiment, une belle surprise !
Adaptation de la BD culte de Mark Millar, Kick Ass gère de manière époustouflante avec des acteurs vraiment sympas (Mark Strong, Nicolas Cage...), ce film déjà culte est doté d'une excellente BO (Ennio Morricone, The Prodigy, Gnarls Barcley...), un rythme effréné constant, un trash bien dosé et un humour décapant. , j'étais pété de rire du début jusqu'à la fin du film, ce qui m'arrive pas très souvent
Des bonnes comédies noires comme ça, on en voit pas des masses, mais celle ci est vraiment très très réussie. En gros, ça se démarque pas mal des films de supers-héros, et s'en moque carrêment. C'est le genre de films qui permet de passer un bon moment, ni intellectuel ni niais : mais complètement barré. Il faut au moins être amateur de cet humour noir omni-présent pour apprécier... mais en tout cas vous connaissez mon verdict, Kick-Ass m'a boté le cul.


Passage réussi à la comédie pour Faith Akin (Head On, De l'autre côté...), certains diront le contraire mais selon moi Soul Kitchen est une excellente comédie, qui ne manque pas d'humour noir quand il en faut. : Adam Bousdoukos, Moriz Bleibtreu ou Biro Unuël sont en tout cas de très bons comédiens allemands. Sur une BO Funk/Soul très branchée, on se marre comme des petits fous devant la cuisine allemande d'Akin et les tribulations de Zinos et ses amis. Au fond, on réverait tous d'un Soul Kitchen près de chez nous.



I Love You Phillip Morris est loin d'être une mauvaise comédie, mais un film très réussi et engagé par son cynisme sur l'homosexualité en se basant sur l'histoire de Phillip Morris. L'humour est décapant, une fraîche comédie (dramatique) avec un duo Jim Carrey/Ewan Mc Gregor irrésistible. Enfin une production Luc Besson pas mauvaise !


Par l'affiche, le casting, la police et le thème,
Les Chèvres du Pentagone
s'avérait être du sous-Coen. Ça l'était, mais c'était vraiment super bien ! Jeff Bridges à la Lebowski, Kevin Spacey méconnaissable, Ewan Mc Gregor (encore une fois !) classique et Georges Clooney excellent par son ironie. Une belle satire de l'armée américaine, psychédélique, fraîche et à mourir de rire sur certains moments.
Anvil est un groupe génial dont les membres fondateurs et permanents Steve Kudlow et Robb Reiner respectivement au chant/guitare et à la batterie, sont comme des frères Ils sortent des albums depuis 1977 au service de leur métal enclume. Ils pourraient avoir la même notoriété que des groupes tels que Scorpions ou Judas Priest. Le problême ? Ils n'ont jamais marché, que ce soit sur le point financier ou culturel. The Story of Anvil les filme en train d'enregistrer leur dernier album. C'est donc avec cruauté que l'on observe les malheurs de ces deux amis, tantôt en froid avec des disputes et des larmes ou de bons moments passés ensemble. Mais aussi leurs galères de tournée, de publication de disque etc... Un documentaire drôle et émouvant comme on a du mal à en faire en ce moment. Et ma chance fut de les voir en concert au Hellfest de Clisson et de les rencontrer en séance de dédicaces. Ce film les a fait marché du moins, mais c'était quand même eux qui faisaient leurs balances eux-mêmes !
When You're Strange retrace la carrière des Doors, à travers la vie de son leader charismatique, feu Jim Morrison. Biographie d'une grande précision, réalisée Tom DiCillo avec une superbe narration de Johnny Depp. Grâce à une grande quantité d'images d'archives, parfois étonnantes et une BO à la hauteur  du groupe, qui mixe l'intégralité de ses meilleurs morceaux, When You're Strange est la meilleure biographie que j'ai pu apprécier. Ce qui est intéressant, c'est que le documentaire est d'une rapidité véloce, et qui pourtant donne pas mal de détails sans trop traîner sur certains (comme la mort incertaine du chanteur, ce qui est bien, car ça aurait donné une succession d'informations répétitives et floues) et ne nous laisse jamais en train de dormir. Le documentaire parfait en quelques sortes, jamais ennuyant, rythmé, toujours instructif et enrichissant.


Le Papy Eastwood a beau multiplié ses rides, il arrivera toujours à nous émerveiller. Après Gran Torino, il passe seulement derrière la caméra pour mettre en scène notamment Morgan Freeman (au sommet de son excellence) et Matt Damon respectivement dans les rôles de Nelson Mandella et François Pienard sur
Invictus
. De toute beauté, chaque plan est admirable, la mise en scène cocasse et même si l'on connaît la fin quand on est un minimum au courant de l'histoire, quel stress règne dans le dernier match de la coupe du monde de Rugby ! Espérons qu'il ne nous déçoive pas avec son nouveau film remettant en scène Matt Damon, Au delà.
La perle visionnée en ce mois de Mai 2010 restera toujours la 4e adaptation de Robin Des Bois. Après Errol Flyn, Kevin Flynn/Kevin Costner, le Walt Disney voici enfin le Ridley Scott/Russel Crowe s'attaquant aux origines du héros Médiéval. Enième collaboration entre les deux compères, Russel Crowe arrive à s'immiscer dans un rôle qui exige une capacité physique impressionante, et c'est dans ce film qu'on comprend qu'il est totalement polyvalent. Qu'il puisse interprêter un gay, un gladiator, un commandant de bord, un traider ou un agent de la CIA, il est toujours aussi bon. A ses côtés, Cate Blanchett, Léa Seydoux, William Hurt ou encore Mark Strong (déjà dans Kick Ass et Sherlock Holmes, faut croire qu'il a de la côte en ce moment). Une belle réalisation comme Ridley sait les faire, et une belle équipe de tournage, donc franchement encore chapeau pour ce film vraiment agréable et jamais ennuyant!


Notre fierté du cinéma français revient avec un film américanisé mais excellent, le remake 3D (oh excuse moi Alexandre...) de Piranha est particulièrement réussi, atteignant le summum du gore presque vers l'insoutenable. Mais c'est à mourir honteusement de rire, même si la 3D ne sert à rien. (*Lire la chronique)


Quelques Malheureuses déceptions choisies au hasard ... (excluant les daubes à souhait qu'il ne sert à rien de présenter) pour faire style que je peux aussi critiquer.


Alice aux Pays des Merveilles
restera ma plus grande déception de l'année. Tim Burton se fait assassiner par disney. Après Sweeney Todd qui était très bien, il se tente de faire passer ses touches Burtonniennes (par des concepts un peu glauques) dans un décor mièvre à la Walt Disney en 3D inutile. Johnny Depp, Alan Rickman ou Helena Bonham Carter n'y changent clairement rien. Pas assez psychédélique, pas assez décalé pour être de Tim Burton même j'ai failli déchirer mon fauteuil au moment de la guinguette de Depp. Rust in Peace Tim Burton, je n'aurais plus aucune considération pour ton oeuvre actuelle tant que tu ne me sortes pas un bon vieux film comme tu sais si bien les faire. ET PUTAIN AVRIL LAVIGNE AU GENERIQUE DE FIN C'EST QUOI CE BORDEEEEEL ???!!!!!


Attention, Monsters n'est pas un mauvais film, juste une déception. Je m'attendais à un véritable film d'horreur à zone infectée mexicaine en allant le voir à l'absurde séance mais finalement ça ressemblait à Lost In Translation mais version je traîne au mexique où y a des pieuvres géantes qu'on voit à peine. La réalisation a beau être soignée, je n'ai pas accroché au film et à son intrigue, par son ton mou et son manque de spectaculaire si ce n'est quelques séquences à couper le souffle. Une sorte de nouveau genre arrive, je me sens un peu perdu à le critiquer juste parce qu'il atteignait pas mes attentes. Mais attention mon ami Louis l'explique mieux

ici




Certes c'est marrant de faire genre : Waaah je vais refaire un classique de John Mc Tiernan avec le maximum de clichés possible et je vais en mettre plusieurs de Predators cette fois-ci, comme pour James Cameron avec Aliens sauf que je vais faire un truc pourri tout en prenant l'acteur le moins approprié pour endosser la relève de Schwarzennegger alors qu'il est pas musclé et qu'il a une gueule d'ange. Bref c'est presque ça, on y trouve une fille manquée (qui finit par survivre avec Adrien Brody, le beau Marines qui s'est musclé spécial pour le film...), un asiatique fan d'arts martiaux qui finira par combattre au sabre notre rasta, un black mercenaire, un russe fan d'explosifs... que des clichés et par dessus tout Laurence Fishburne qui a un rôle tout pourri et Danny Trejo qui ne dit pas un mot et meurt directement. On sent bien le producteur (Robert Rodriguez) qui a mis une condition pour placer son cousin, que le réalisateur a directement dézingué parce qu'il avait pas envie de le mettre en scène. C'est juste divertissant, ça reste un navet.


Si la séance n'était pas assistée par l'équipe du film, je ne serais pas allé voir 600 kg d'or pur. Parce que je le sentais très mal.. et pour ma part je n'avais pas tort, ce film n'est vraiment pas terrible. Après Cash, Eric Besnard change de registre et veut rendre hommage à l'ancien cinéma français dans un décor insoutenable Amazonien. Le film était presque inintéressant, mais la rencontre avec Bruno Solo et Clovis Cornillac et le réalisateur était géniale !
---
C'est clair que j'en ai oublié des films, mais bon je le changerais au fur et à mesure ce bilan. En tout cas c'était une majeure partie des films qui m'ont marqué en cette année clôturée et ces sous en cinoche dépensés. 2011 sera une belle année aussi je pense, à commencer par Incendies de Denis Villeneuve mon point de départ vraiment magnifique, Sound of Noise, le dernier Sofia Coppola Somewhere, le dernier Terence Malick Tree of Life avec Penn et Pitt ou encore The Fighter...
Mais surtout True Grit des frères Coen, mon attente. Je vous laisse en vous souhaitant mes meilleurs voeux cinéma pour 2011 !